The 154th Youth Academic Salon of CBEIS, one of the series activities that aims to improve the scientific research ability of postgraduates, was held both on and offline on the afternoon of April 8, 2022. Dr. Luo Wei, Associate Research Fellow of CBEIS, made an academic report on the topic of Customized AI for Biomedicine — Taking QPM as an Example.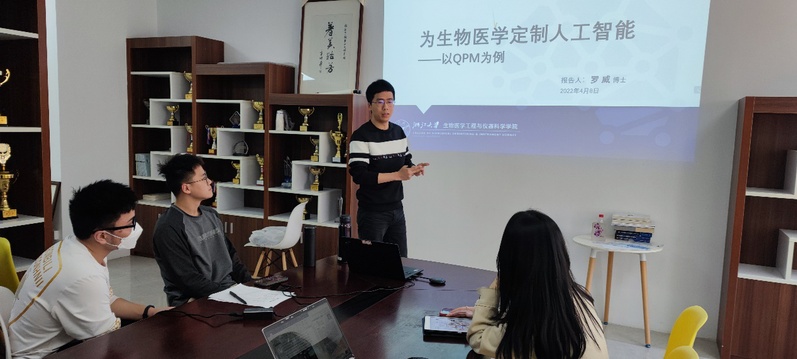 In the upsurge of artificial intelligence, Artificial Neural Network(ANN), also known as Deep Learning,is always bound with complex models and massive training data, requiring huge computing resources. Deep learning has been migrated to biomedical applications, and is playing an increasingly important role in biomedical data reconstruction and analysis. However, because of the significant difference between biomedical data (such as microscopic microscopic images) and macroscopic world data, some deep learning methods (e.g. face recognition) are often poorly performed.
To address this issue, Dr. Luo proposed a deep-learning based Quantitative Phase Microscopy(QPM) image reconstruction method. By integrating deep learning model, training data, and model training, this method can finish the reconstruction of QPM images with a single training data.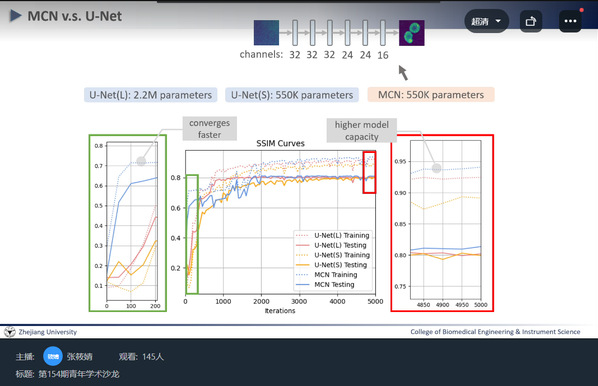 Compared with fluorescence microscopy, QPM technology is label-free and non-invasive, which makes it suitable for long-term observation of living cells. However, it is not a WYSIWYG imaging method. Generally, the optical phase deviation of the observed sample needs to be reconstructed from an interferogram. The lightweight and simple network proposed by Dr. Luo show the comparable performance with large model, which has great practical value.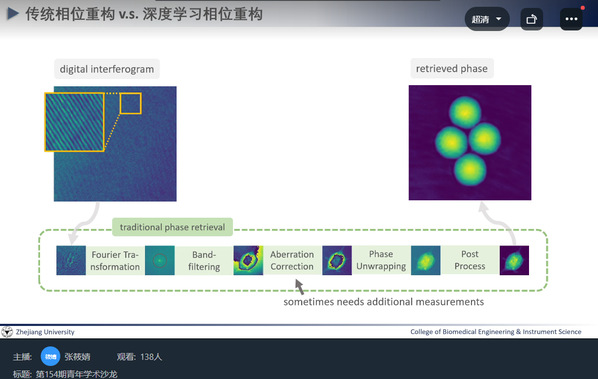 In the end, Dr. Luo had a heated discussion with the students, and answered questions from the students. The 154th Youth Academic Salon have ended successfully.