The 155th Youth Academic Salon of CBEIS, one of the series activities to improve the scientific research ability of postgraduates, was held both on and offline as scheduled on the afternoon of May 13, 2022. Zhang Weimin, Chief Physician of Cardiovascular Surgery at the First Affiliated Hospital of School of Medicine, Zhejiang University, brought a special academic report on the topic of Cardiac Surgery.
Dr. Zhang first introduced the four most commonly diagnosed cardiovascular diseases, which are structural heart disease, cardiac arrhythmia, heart failure, and macrovascular disease. He then talked about the mainstream operating procedures and treatments for above-mentioned diseases, including but not limited to valvuloplasty repair or replacement, coronary stenting or bridge surgery, congenital heart disease correction and cardiac tumor resection. Dr. Zhang also shared the technical confusions and difficulties that are commonly experienced by cardiac surgeons in clinical practice. Afterwards, Dr. Zhang presented the developmental trend of cardiac surgery from the perspective of how to achieve early and accurate diagnosis with minimally invasive treatment, and shared some new ideas for diagnosis and treatment methods.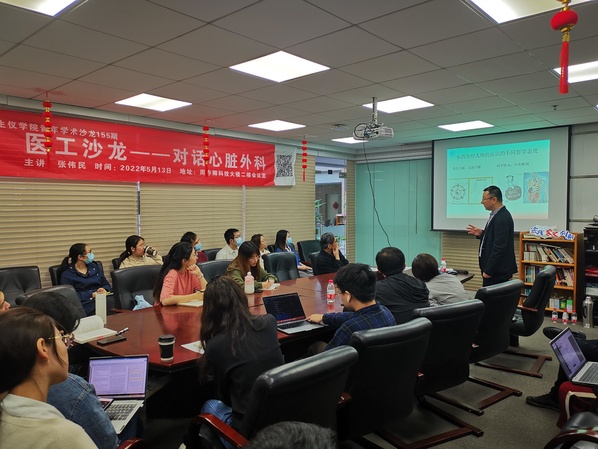 During discussion, the teachers and students who participated in the salon raised relevant questions based on their own research. In response to these issues, Dr. Zhang shared his valuable experience and views through vivid explanation, which enabled a reconsideration of existing problems from a more clinical perspective. The collision of ideas gave the audience a deeper understanding of both cardiac surgery and their own research topics.

This event is the first lecture given by clinicians in the Medical Engineering Salon, which aims to encourage teachers and students to deepen their research into the actual needs in clinical settings and drive the transformation of scientific innovation achievements, for further promoting the integration of medicine and industry.