After rigorous evaluation and interview, the Optica Foundation announces ten exceptional early-career members who will serve as the 2022 class of Optica Ambassadors. Dr. Hyeon Jeong Lee, from the College of Biomedical Engineering and Instrument Science(CBEIS),Zhejiang University, received this lifetime Ambassador distinction. She will join previous honorees (2016-2021) in their mission to support student chapters and host professional development events.
The Optica Ambassador Program aims to recognize the leaders in optics and photonics worldwide to promote the development of optics. Since 2016, Optica select 10 young scientists as the Optica Ambassador every year. As emerging leaders, Ambassadors will provide career advice, technical knowledge and mentorship for the next generation. Additionally, they are charged with promoting the importance of a diverse and inclusive science ecosystem and bridging connections between academia and industry.
"The ambassador program empowers those recognized to leverage their passion and drive to make a difference in the optics community," said Eric Mazur, Harvard University, chair of the Optica Foundation Board of Directors. "Through this program, these individuals will influence and inspire the next generation. Optica Ambassadors help retain more great minds in optics and photonics and support local communities through grassroots activities."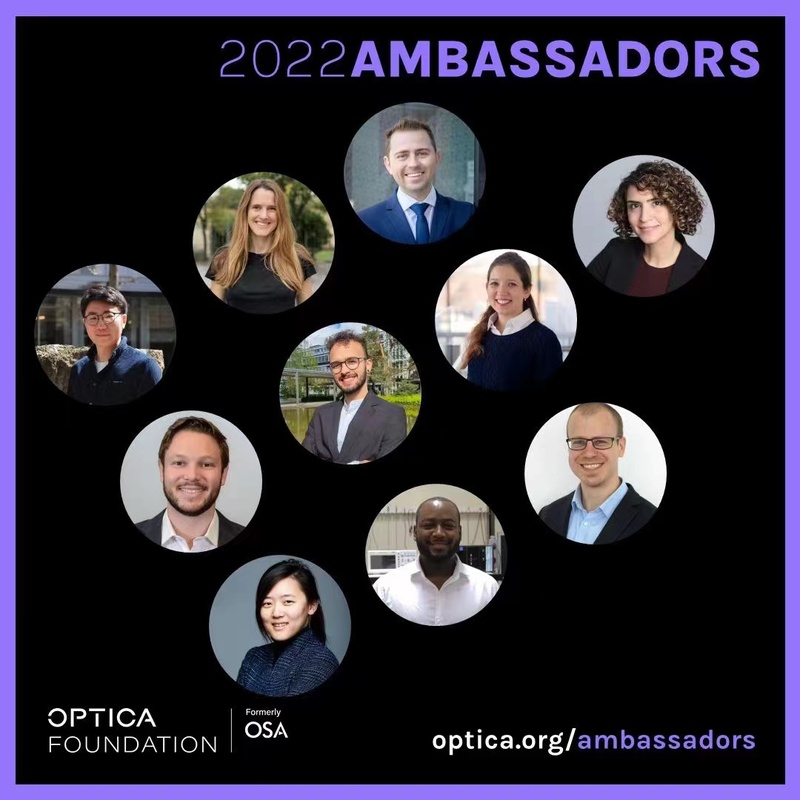 ref: https://www.optica.org/enus/about/newsroom/news_releases/2022/optica_foundation_announces_2022_ambassadors/
Dr. Hyeon Jeong Lee
Dr. Hyeon Jeong Lee joined Zhejiang University in 2019 as a Research Fellow. She was born in Seoul, South Korea, and graduated from National Taiwan University with a bachelor's degree and a Ph.D. degree from Purdue University in the United States. After that, Dr. Hyeon Jeong Lee worked as a postdoctoral researcher and a visiting scholar at Boston University Photonics Center. In 2021, she was awarded the Innovator Under 35 Asia Pacific by MIT Technology Review.
Dr. Hyeon Jeong Lee's research interests focus on biomedical photonics, cell metabolism, tumor biology, and neuroscience. She has published over 18 peer-reviewed articles in scientific journals such as Cell Metabolism, Nature Communications, Science Advances, Advanced Materials, and Journal of Physical Chemistry Letters, invited to write 3 book chapters, and published 10 international conference proceedings.Dr. Hyeon Jeong Lee is currently serving as a committee in the International Optical Society (OSA) Molecular Probes and Nanobio-Optics technical group, a junior director in the Metabolic Biology branch of the Biophysical Society of China (BSC), and a junior committee in the Chinese Optical Society Biomedical Optics division. She is also the guest editor of Photonics as well as a reviewer for international female scientists awards and Nature series journals.